How to Choose Shingles &
Common Utah Roof Maintenance
Interesting Fact: Asphalt roof shingles are one of the most common roofing materials in Utah because of the low cost of installation.
Interesting Fact: Algae does not damage asphalt shingles, but it can be responsible for stains or unsightly discoloration that requires maintenance.
What are roof shingles made of?
There are multiple types of roof shingles that are made from various materials to choose from. The most common material used to make them is asphalt. They are built with either a fiberglass or organic felt base. Each of these bases are built as a large roll which is then run through a presaturation chamber and put into a saturation tank filled with hot asphalt that attaches the asphalt to the base. Following the asphalt, different granular minerals are added. The minerals allow the shingles to be different colors and keeps the roof protected from harmful UV rays.
Types of roof shingles
Asphalt is the most common type of roofing shingles due to their low cost, ease to install, durability, low maintenance costs and wide variety of colors and styles. Cedar is another option you can choose and is usually found on older homes. As cedar has become more rare (and thus more expensive), most new cedar shingles actually use new growth trees which are more vulnerable to wear and must be chemically treated. The cost to buy, install, and maintain them have made these less common. Choosing tile is also common in some climates. The initial cost is high, but people choose tile because it can offer more durability, longer life, and better heat efficiency in extreme climates.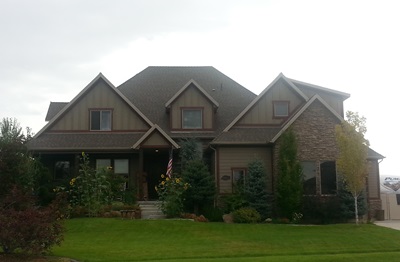 How often should you replace your roof?
The lifespan of a shingle installation varies widely based on the type you choose, and even the specific style of each type. For example, many common asphalt shingles are rated for a 30-year lifespan, but some are rated for as little as ten or fifteen years. Tile can be rated even longer. The life span also greatly depends on the environment they are in and what work has been performed. Extreme Utah weather such as winds, heat, or cold can greatly decrease how long a roof will last.
What causes roof leaks?
One of the biggest causes is simply the age of the roof. Over time, the Utah weather will wear down or break shingles, resulting in leaks. Clogged rain gutters is another common cause of leaks. When the gutters don't drain, the water can soak into the wood under the shingles. This is an especially severe problem during the winter, when ice dams are common and can build up in gutters, causing water and ice to seep under the shingles and cause damage. Choosing to perform regular checkups like routinely checking gutters is a simple way to ensure this doesn't happen. Lack of enough slope on the roof, improperly installed flashing, or excessive moisture all can create leaks.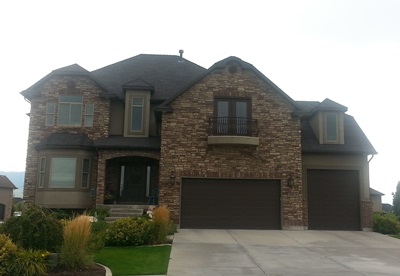 Why does my roofing sag?
When a roof sags the most common reasons are that either there are faulty materials or too much weight, or a combination of the two. The materials can wear down or even break causing sagging. Regardless of the reason, sagging can be a sign of huge potential problems and should be checked by a Utah roofing contractor immediately.
How to prevent ice dams
In Utah ice buildup on roofs is usually caused by gutters that don't drain, or not enough pitch on the roof. Simple steps like keeping gutters clean and flowing will eliminate a lot of problems, but sometimes the water can freeze before it's able to drain which will cause a slow buildup of ice. Installing heat cables will prevent this from happening. Installing heat cables in areas without enough slope will keep ice from collecting in the area.